Following the Snowshoe Canyon adventure, it was time for a little mini-cannonball. I wanted to go stretch out mentally amidst the western Great Plains of Wyoming and South Dakota. Baird's Sparrows would still be around, but finding them would probably be next to impossible this time of year. I didn't care. I had a great adventure with Seth; I was getting cabin fever from missing my family; I needed the road to give me a little hug. So to the road I went…
I took a back road route back over Togwotee Pass. This was fun to see the scenery coming OUT via Togwotee — I only see what you can see driving in. Wow what a drive! I made it over to Casper, then up and over via back roads to Newcastle, Wyoming where I holed up for the night. The next day, I drove up near Buffalo, South Dakota, to maraud some remote prairie areas that Michael Retter had told me were good for Baird's Sparrows, Sprague's Pipits, and Chestnut-collared Longspurs.
My first stop was JB Road south of Buffalo. This is why I go "here":
Landscape Xanax for the soul…
Horned Larks were everywhere. I did manage to find a couple of Chestnut-collared Longspurs. A powerful little storm system came through providing much needed rain:
Unfortunately with the rain comes lightning:
At least three prairie fires were started by this storm; all of them were short lasted, but the troops responded none the less, as conditions were ripe for a pyrotechnic catastrophe.
During the storm, I took the Denali down to a lower spot and I had a huge Ferruginous Hawk soar right by my car; as I struggled to get my camera the Ferruginous Hawk took off after a much smaller Red-tailed Hawk and drove it into the ground. The Red-tailed did an avian version of "peeling out" and dusted prairie grass getting out of there while the Ferruginous stood tall on the ground making victorious statements with its eyes.
After the storm passed, and smoke tendrils were raising here and there, I made my way west of Buffalo to Harding Road and drove south to aimlessly meander more prairie swales with my co-pilot:
I had planned on going to Colorado for a day or two on this mini-run, but Jackson Hole's pull was too strong. I made a decent haul to Casper, Wyoming, driving through this spectacular sky show en route:
I hope someone checked that green shed for the gold…
Friday morning, I awoke to a Casper that was so smoky not even Casper Mountain could be seen from town. The storm systems had set eastern and central Wyoming on fire. A smoky haze accompanied me all the way back as I drove to Jackson. On the way, I stopped on the north side of Ocean Lake to look at Western Grebes and found this handsome Red-tailed Hawk:
When I got back to Novotny's place, we got all caught up. The Novotny family had gone on a boat tour of Jackson Lake that day, and they were telling me about their tour leader. According to them, she was going to go hike Waterfalls Canyon alone the next day, Saturday. Based on their description, this was the same gal Seth and I had spoken with after our brutal beat-down in Snowshoe. Apparently she had not gone on Thursday, and was now going tomorrow. Pain forgotten, I called Colter Bay and got in touch with her and we arranged to meet at the Colter Bay Marina the next morning for yet another adventure into the remote canyon mansions behind Jackson Lake.
That evening, I had arranged for a gathering of friends to hang out at the Four Seasons fire pits for cocktails and sushi. It was completely lovely needing a fire pit at night knowing the broil that was destroying the rest of the country. The friendships and location were celebrated with a good solid "Cheers!":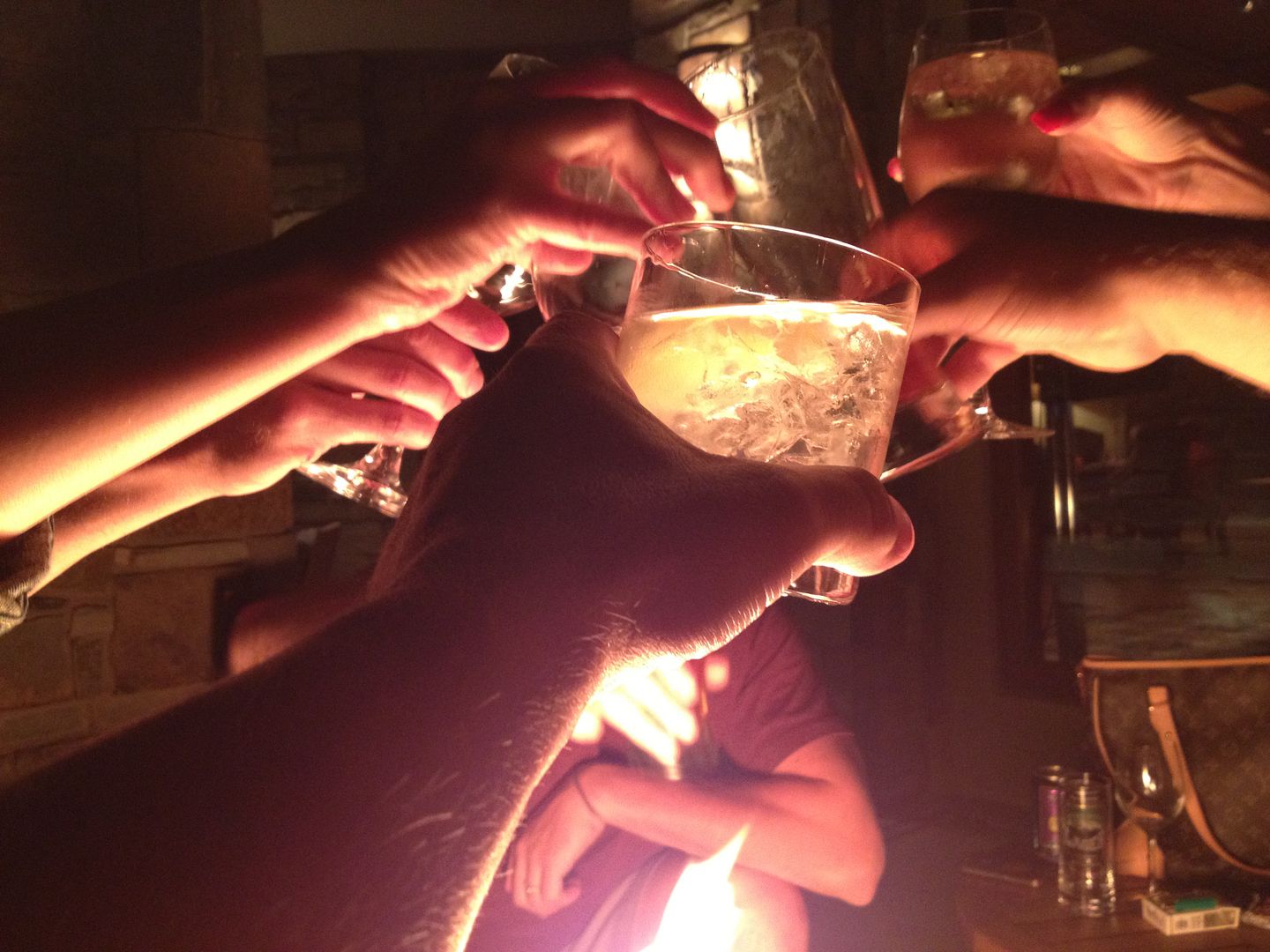 One of those friends was Seth Heeter. He was off the next day. So that was it. Team Fraker-Heeter were going into the wilds for round two with Jessica as our third. We stayed out late and punished ourselves figuring that getting all of that sleep last time may have been what hurt us. Not sure if this was a smart theory, but it was fun as hell testing it…
Share on Facebook